Prints, and notecards, can be made of almost any of the paintings you see in the painting galleries. The size and paper grade determine the cost of the print. Please email me with your questions and we can discuss the price, size, and availability of any print or notecard you may want. Following is information about my Limited Edition Giclée prints which are more costly because of the paper quality and process of reproduction.
Watercolor Limited Edition, Signed Prints Giclée Prints
Giclée (pronounced "zhee-clay") is a digital method of fine art printing that was originally developed in 1989. The word Giclée is French for "sprayed, jetted, or spurted." It is often difficult to distinguish between the Giclée and the original piece of art. The image that is to be printed is scanned and digitally stored in a computer then sent to a high resolution inkjet printer. Giclée printing provides for the highest quality fine art graphics with rich colors in the tradition of original lithography.

Dozens of museums in the U.S. and abroad have either mounted exhibitions of Giclées or purchased them for their permanent collections. These include The Metropolitan Museum (New York), and the Guggenheim (New York). Giclée is recognized as a category of fine art print such as lithographs or serigraphs and is considered to be the premier method of reproducing original art. The colors are much richer and truer to the original than in other types of reproduction. A Giclée features a continuous tone color instead of a screen pattern of dots.

Unlike other printing methods, each image is printed individually. Because of this, Giclées are often offered in smaller editions than lithographs. Although inks and paper used should offer a high degree of permanence, Giclee should be treated as fine art and be protected from moisture and harsh sunlight. For more information about Giclée Prints, go to: http://www.oilartist.com/giclee_faqs.htm.
Each of my Giclées have a 1" white border, are hand signed and numbered, and come with a certificate of authenticity with a money back if not satisfied guarantee.

I have produced 4 Giclee prints from several of my favorite paintings. I am extremely pleased with the quality of these reproductions and I am happy to be able to offer you these prints to add to your collection.

Click on image to enlarge.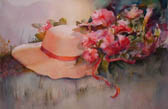 "Straw Hat"
Size 27 x 20
Signed Limited 100 Edition
Price $200 unframed, matted
Size 15 x 23
Signed Limited 100 Edition
Price $100 unframed


"Afternoon Peace "
Size 27 x 20
Signed Limited 100 Edition
Award Winner
Price $200 unframed,matted
Size 12 x 19
Signed Limited 100 Edition
Price $75 unframed